In a convertible, you are partially unprotected from the sun and wind. It can be very hot, but also cold.
What should we wear in a convertible car?
From the historic origins of automobile fashion, to today's practical and fashionable choices, let's learn about what to wear in a convertible.
Check out a variety of options of what to wear in a convertible car, and learn what will work best for you. 
In This Article: We show you how to react to wind and sun in the convertible with the right clothing and which accessory no woman should be without.
Advertising links are marked with *. We receive a small commission on sales, nothing changes for you.
What To Wear In a Convertible – The Short Answer
In a convertible, you should wear clothes that quickly adapt to new weather conditions. You need clothes for colder temperatures, but also comfortable light clothes for direct sunlight. Headgear should not be missing.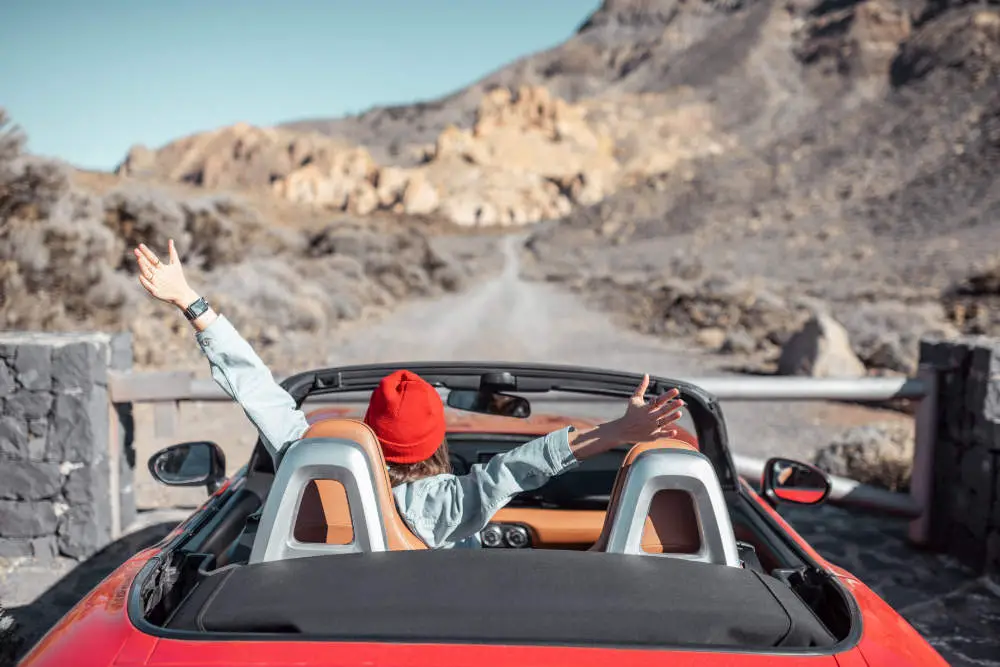 What is it Like to Drive or Ride in a Convertible Car? 
A convertible car is a unique experience.
Many find convertibles to be quite exhilarating; however, you have to be prepared for the exposure!
The two major things you'll notice in a convertible car that you may not experience in a regular car are the wind and the sun. These can significantly affect your enjoyment of riding in a convertible, so it is best to be prepared by dressing properly.
How Does The Wind Affect Being in a Convertible Car?
There is the obvious wind from traveling at speed in a car without a roof.
But what you may not know is that due to the aerodynamics of the car, the wind can often feel like it is pushing you from behind.
Wind noise can affect how well you discern your surroundings, and how well you can hear your driving companions. 
How Does the Sun Affect Being in a Convertible Car?
The sun will have quite an impact, as you are not protected from it by a roof.
You may not feel like you are getting sunburned because of the wind cooling your skin, but you are definitely getting exposed to harmful UV rays.
Don't forget about SPF protection for your lips. Keeping lip balm in the glove compartment is a good tip to avoid wind-chapped and sunburned lips.
Is it Uncomfortable to Drive or Ride in a Convertible?
Discomfort from extreme temperatures can be minimized by using heated seats, running air conditioning, and keeping the side windows up, but it is best to always be prepared for the temperature outside.
Know what the weather will be like before heading out in your convertible, keeping in mind that it will always feel colder when you are moving at speed because of the wind. 
How Should I Dress When it is Warm and Sunny Out?
The most important thing to remember is to protect yourself from the sun.
That means wearing good quality sunglasses to protect your eyes from glare, and wearing sunscreen to protect your skin.
Many brands of clothing now offer SPF protection built into their fabrics, which makes them ideal for wearing in a convertible. 
What About Hats? Won't They Blow Away in a Convertible?
Hats are a smart way to protect your head and face; just be certain your hat is snug fitting, especially if it has a brim.
Don't be too scared about your hat blowing away and being lost forever. Due to the wind dynamics of a convertible, a hat that gets blown off will usually blow forwards, towards the windshield of the car. 
Fashionable Scarves Tied Around Their Heads. Is That Really Useful?
Those movie stars were smart to use a scarf, and chic as well!
The classic look will stay in place, keep hair of all lengths secure, and protect the scalp from the sun and wind.
Can You Use a Convertible When it is Cold Out?
As odd as it may sound, driving in a convertible car can be quite pleasant and fun during cooler months.
Keeping in mind the old adage to "be prepared", dressing in layers is key.
Keep the side windows up and the heated seats on (if available), which will help create a comfortable environment.
What Should I Wear in a Convertible When it is Cold Out?
Wearing driving gloves, a hat or warm cap, and a scarf or buff protects cold-sensitive areas of the head, hands and neck.
For passengers, it is not unheard of to bring a blanket for comfort. Even if it is cold out, wear sun protection such as sunscreen, lip balm and sunglasses if it is sunny outside. 
What About Accessories? Are There any Specific Recommendations for a Convertible?
The phrase "glove box" is a hint, as that was the origin of that ubiquitous compartment: to store gloves.
Driving gloves, unlike winter gloves, are thin leather gloves that improve grip on the steering wheel, reduce hand fatigue, and protect hands from sun, wind, and weather.
They are thin enough so that you can still use small buttons on the dashboard while still offering protection and grip.
Can I Wear my High Heels in a Convertible?
As a passenger, any footwear is acceptable, keeping in mind the weather and temperature.
As a driver, however, you should not wear high heels, since they will negatively affect your ability to brake and accelerate safely.
Driving shoes with thin sole are an option for those who want a responsive feel through the pedals, and many are quite fashionable.
What Were Some Historic Fashion Trends for Driving?
Large, roomy dusters, hats with wide brims for the ladies, googles, gloves, and sturdy boots (for when gentlemen had to push-start their stalled cars) each became fashionable in their time.
Some fashions became fads and then faded away (such as googles), others have remained smart choices for convertible and regular cars alike.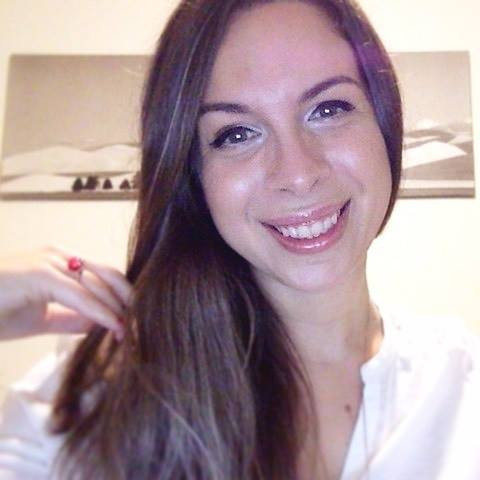 Luna Meschiari is a full-blooded car nut who is well known to local garages, as each article is meticulously researched and peppered with the latest piece of information. Guess what car she's driving right now? A RAV4 2021 Hybrid. But her heart also sleeps for pickups like the F-150. Get to know Luna better on the about us page.
Advertising links are marked with *. We receive a small commission on sales, nothing changes for you.