The RAV4 and the Tacoma are two models from Toyota that have built up a large fan base over the past few years.
Rightly so, because both are great cars!
But which model is the better one?
In this article, Toyota RAV4 and Toyota Tacoma will be subjected to the ultimate comparison. A neck-and-neck race that finds a worthy winner in the end. Be curious!
Brief Overview of Both Cars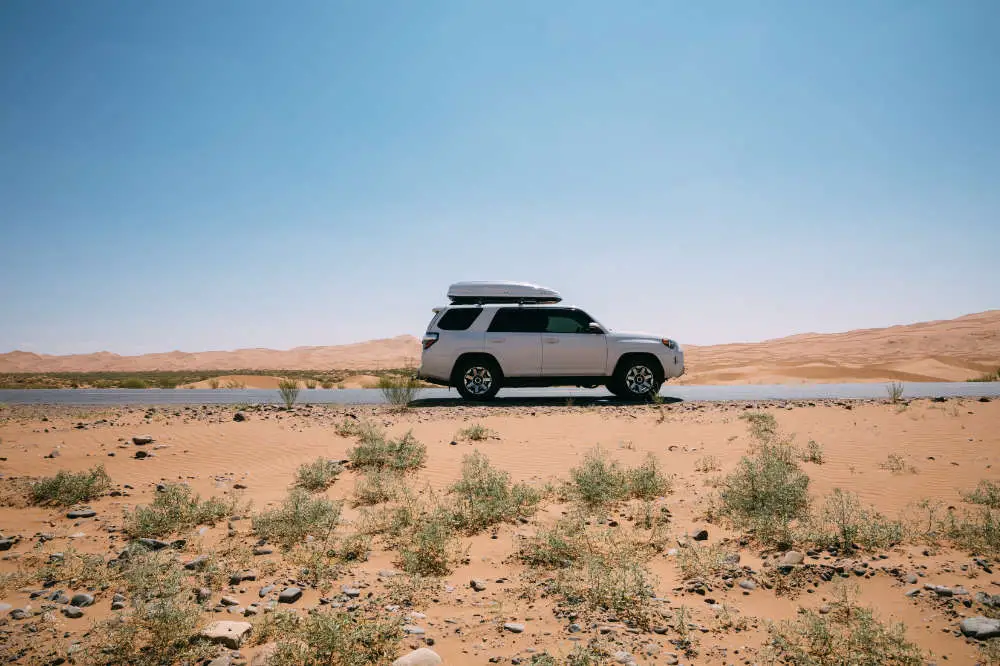 Brief Summary of Pros
| | |
| --- | --- |
| RAV4 | Tacoma |
| Roomy, well-packaged interior | Impressive off-road chops |
| Lots of standard safety tech | Smooth and competent V-6 |
| Wide range of trim levels | Available manual transmission |
Brief Summary of Cons
| | |
| --- | --- |
| RAV4 | Tacoma |
| Not all that polished | Pokey base engine |
| Adventure is an oddball | Interior trim can be over the top |
| Quirky looks | Pricey in top trims |
With each passing year, Toyota's RAV4 becomes more adaptable.
The 2021 RAV4 has the same single powertrain as the current model. A 2.5-liter four-cylinder engine with 203 horsepower and an eight-speed automated gearbox.
The RAV4 impresses with its rapid acceleration and good fuel efficiency. It gets up to 30 mpg overall, according to the EPA.
The Tacoma isn't as luxurious as a Honda Ridgeline, but it's still a decent vehicle.
The 2.7-liter four-cylinder engine in entry-level vehicles produces 159 horsepower. On the bright side, four-cylinder vehicles get an EPA rating of up to 21 mpg total, which is respectable.
The standard Tacoma, like the RAV4, can tow up to 3,500 pounds. The standard engine is great, but, feels underpowered.
#1: Engine
Toyota RAV4
Toyota RAV4 has a 2.5-liter four-cylinder engine. That engine produces 203 horsepower and an eight-speed automated transmission.
Standard would be a front-wheel drive. But, Toyota also provides a choice of all-wheel-drive.
Toyota Tacoma
The primary grade of the Toyota Tacoma features a 2.7-liter DOHC 16-valve 4-cylinder engine. Besides, it comes with a VVT-I that produces 159 horsepower at 5200 RPM and 180 pound-feet of torque at 3800 RPM.
The automatic transmission has a total of six speeds. You will be able to get both AWD and RWD drivetrains.
#2: Space Available
Toyota RAV4
Cargo
The load capacity of the Toyota RAV4 is 37.5 cubic feet behind the rear seats. It also offers 69.8 cubic feet with the back seats folded down.
For a small SUV, the figures are above average. Optional features include a motorized liftgate and hands-free liftgate entry.
Seating
The inside space in the two-row, five-seat RAV4 is adequate but not exceptional. Some reviews claim the chairs are pleasant for an extended period, while others say they might be softer.
Standard features include:
Cloth upholstery
A six-way manually adjustable driver's seat
A four-way manual adjustable passenger seat.
Optional features:
Synthetic leather upholstery
Heated and ventilated front seats
Heated rear seats
Eight-way power-adjustable front seats
Heated steering wheel
Leather-wrapped steering wheel, and shift knob
Toyota Tacoma
Cargo
The Access Cab has a 6-foot-1-inch bed, while the Double Cab may have a 6-foot-1-inch or a 5-foot bed. A few extra storage containers are around the cabin, and two bins are in the cargo bed.
Standard features:
A retractable tailgate
Composite inner-bed walls
A bed rail system with adjustable tie-downs
Seating
The Access Cab can seat four passengers, while the Double Cab can accommodate five. The upholstery is usually made of cloth.
Optional features:
A leather-wrapped steering wheel and shift knob
A 10-way power-adjustable driver's seat
Heated front seats
Leather upholstery
This car offers a comfortable driving posture, although it has low-mounted front seats.
#3: Equipment
Toyota RAV4
The RAV4 is unique in many aspects, many of which correspond to its equipment. Here are some of them:
TRD Off-Road Capability
Dynamic Torque Vectoring AWD With Rear Driveline Disconnect
Drive Modes
Multi-Terrain Select
Multi-Link Rear Suspension
Exceptional Ride, Handling, and Comfort
Toyota Tacoma
The Tacoma is a favorite when it comes to adventure and off-road driving. Thanks mainly to its equipment. Discover part of it here:
Suspension lift
TRD Pro Skid Plate
Aggressive Front Fascia
Rigid Industries® LED Fog Lights
TRD-Tuned FOX® Internal Bypass Shocks
16-In. TRD Pro Wheels
#4: Landing Gear
Toyota RAV4
RAV4 uses a unibody car frame. Unibody is made from a single piece, unlike other body frames. RAV4 was the first vehicle to use unibody in history. Toyota made the unibody frame popular with the new model of RAV4 back in 1994.
 Because of it, the car is safer, lighter, and more fuel-efficient.
Toyota Tacoma
Tacoma on the other hand uses a body-on-frame type of chassis. The chassis is molded into the vehicle frame.  Because of it, Tacoma is larger than RAV4. Body-on-frame is much easier to fix if there's any damage.
Because of this type of chassis, Tacoma is much quieter, sounds seam distance, which is very important for off-road adventures.
#5: Cost Factor
Toyota RAV4
All the expenses are given here are approximations. Check with the car dealership in your country for accurate information.
Cost of a new car:    $32,323 
Cost of a used car:  $19,795
Annual fuel cost:     $1,800
Yearly maintenance costs:   $429
Toyota Tacoma
All the expenses are given here are approximations. Check with the car dealership in your country for accurate information.
Cost of a new car:   $37,902
Cost of a used car:  $36,920
Annual fuel cost:   $2,600 
Yearly maintenance costs:  $478
For Whom is the RAV4 the Better Car?
The RAV4 makes it possible to have the best of both worlds. It has enough room to keep rear passengers comfortable and plenty of space for the gear you bring along.
Whether it's work, play or family, the RAV4 has the versatility to make it a popular pick among a group of drivers.
Considering this, a RAV4 is an excellent option for growing families. It has enough space and it's comfortable.
For Whom is the Tacoma the Better Car?
Over the decades, Tacoma has been building a solid reputation. It is reliable, dependable, and is of high quality. Being a top contender for that long isn't an easy accomplishment.
As you already know, Toyota is a brand known for its reliability.
Considering this, Tacoma is an excellent option for travelers and hobbyists. Of course, it's a truck at the end of the day, so imagine all the space you would have for your equipment.
Conclusion
Now that you have all the information needed for your purchase, it's time to make a choice!
Knowledge is power, meaning you can now safely buy the car of your dreams.  
Enjoy all the rides and new adventures… and let us know which one you chose!