A sturdy metallic device affixed to the frame of your car is a tow hitch, often known as a trailer hitch. But you already know that.
The question is – how to select the best hitch for your RAV4?
In this article, find out what are the top seven hitches for RAV4, what is so special about them, and where you can buy them!
Advertising links are marked with *. We receive a small commission on sales, nothing changes for you.
Can You Put a Hitch On A Toyota RAV4?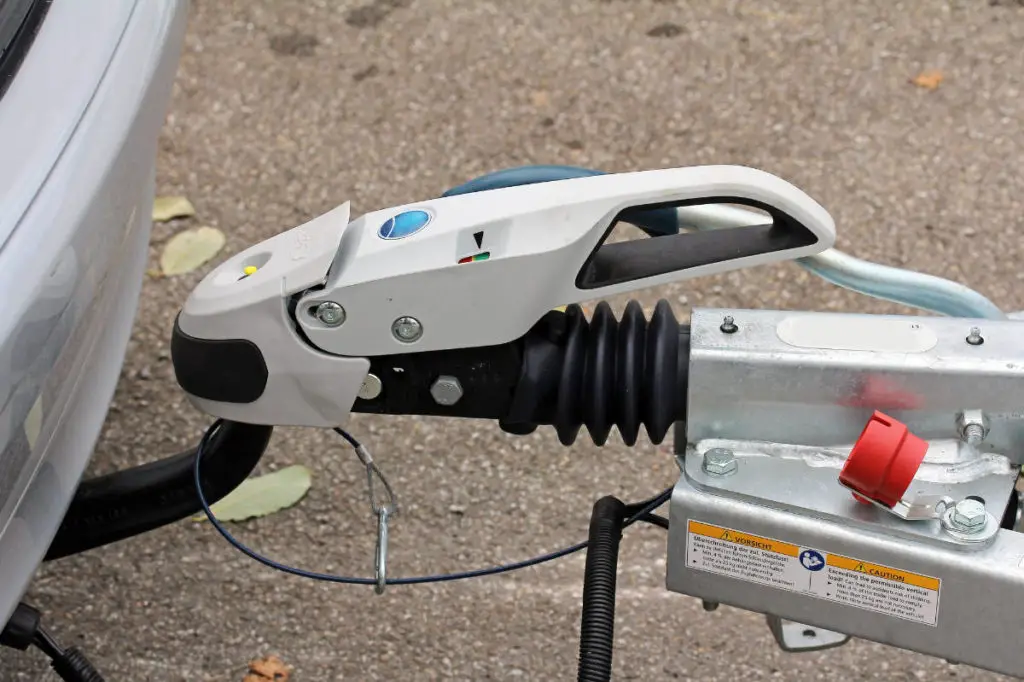 Yes! You can put a hitch on your RAV4. 
There are various hitches your RAV4 can take, and you can read all about them in the next couple of paragraphs. 
What Are The Best Hitches For Toyota RAV4?
In the next couple of paragraphs you will find out about the top 7 hitches for your Toyota RAV4. 
Keep reading for more info!
#1: Toyota Trailer Hitch PK960-42K10
The price of the Toyota authentic (OEM) RAV4 trailer hitch PK960-42K10 receiver for models 2019 to 2022 is $360.
That price is quite costly if you compare it to other available options on the market.
This package includes the stencil you will need to draw out the modifications you must make to the bumper where the hitch protrudes.
Going through the bumper implies you have greater clearance from the ground than those who emerge from underneath the bumper.
It also avoids getting scratched on driveways and faster speed bumps, thanks to the additional ground clearance.
If you choose service dealers, the cost of the hitch and installation is the drawback.
Due to the potential labor hours, one of them has cost closer to $1,000 for installation.
It's important to note that the OEM hitch receiver is most compatible with some of the top bike racks for Toyota RAV4 by Kuat and Thule since it provides the appropriate amount of ground clearance needed.
In other cases, you might need to purchase hitch extenders to increase the clearance for trailers or bike racks.
#2: Curt 13524 Class 3 Trailer Hitch
Curt's hitch receiver is less expensive, lighter, and does not require modification to the bumper than the OEM RAV4 hitch, which costs half as much.
Due to the quick clearance, you might have to choose an adapter for some attachments.
If steep driveways or uneven roads exist, the adapter (which costs about $50) should prevent your carrier from hitting the ground.
With some DIY videos, you could be able to do the installation yourself even though it has a similar towing capability.
The product's simplicity of installation (removing the four pieces of tape is all required with the correct equipment) is what most consumers find most appealing.
You should carefully read the product's remarks section because each model has different specifications.
In particular, the 2019–2022 models sits modestly.
#3: Draw-Tite 76201- Max-Frame Receiver
This receiver, slightly more affordable than the Curt receiver, is compatible with various RAV-4 2022 models, including the RAV4 Prime.
It is very simple to install; several people could do the job in 30 minutes without lowering the exhaust.
Although each RAV4 can only handle a maximum weight of 3500 pounds, the receiver has a maximum gross trailer weight of 4500 pounds, so that's a little bit excessive.
#4: Reese 84201
A second class -3, 2-inch trailer hitch with a 4500-pound weight limit is also available. The hitch receiver on this vehicle contains electric brackets for crossing wires.
The wires are vital if you must haul a trailer since you will need to cross into specific cables so the trailer has light.
The installation of wiring is a separate task that has its price. Reese stresses tests on all of its product models and has been in business for about 70 years.
Reese's 84201 trailer hitch for the RAV4 is comparable to Curt and Draw-Tite in that it works with the weight distribution system.
Compared to not having one, a weight distribution network aids in keeping the trailer and the RAV4 more stable.
#5: DNA Motoring TH-N-033
There are a few things that make this hitch a good one.
First, it is made of steel, with a gloss black powder-coated surface that prevents corrosion and is heavy-duty. It also has a one-piece welded steel construction for longevity and durability.
This tow hitch receiver can support a tongue weight of 525 pounds and a gross trailer weight of 3500 pounds.
Also, this tow hitch is built with a vehicle-specific design for a good fit and made with precision welds, which gives excellent strength and fit.
It has a see-through receiver for easy maintenance. Hitch is engineered to tuck into the vehicle body for a cleaner look.
And lastly, bolt directly to factory mounting points for a speedy and straightforward installation. The only thing is trimming the bumper fascia may be necessary for clearance.
#6: Draw-Tite Hitch Class III
The good thing about this hitch is that you can attach it straight to the frame without drilling or welding.
It is meant to supplement trucks, vans, and sport utility vehicles and will fit your RAV4 nicely.
It is a solid all-welded construction with a 2-inch square receiver tube opening for optimal strength and longevity.
Another thing, the A-Coat base's black powder coat finish, which is corrosion- and weather-resistant, ensures that it will maintain its appealing appearance for many years. Your RAV4 will be forever grateful!
To achieve the best fit and best towing performance, computer-aided design and fatigue stress testing were used, which promises you that you are getting a good product for your RAV4.
#7: Curt Class I
This class 1 hitch is sturdy, welded steel and is suitable for 2,000 lbs gross trailer weight and 200 lbs. tongue weight.
Also, this hitch gives your car handy, adaptable towing choices. It offers a typical 1-1/4-inch x 1-1/4-inch receiver hitch, enabling you to mount a cargo carrier or bike rack, pull a compact trailer, or both.
It is coated with a tough black powder coat finish and immersed in a liquid A-coat for the best rust, chip, and UV protection available in the industry.
Various Toyota models from specific years are factory-designed to suit this class 1 hitch!
Toyota RAV4: Trailer Hitch Installation Cost
You should budget approximately $100 to hire a professional to install your hitch on your RAV4. This is a fair fee, given the time and effort required to complete the task correctly.
Most places also want you to schedule an appointment because they cannot predict when they will begin the work.
The type of hitch, the difficulty of installation, and whether you hire a pro will affect the final price; it can reach up to $250.
Remember that this only applies to the hitch itself. The price will be higher if you buy extra accessories like a wiring harness or safety chains.
Advertising links are marked with *. We receive a small commission on sales, nothing changes for you.