If you spend a lot of time driving your Ford F-150, you know how hot it can get inside during sunny days. That's why a sun shade is a must-have accessory. 
There are multiple benefits to sun shades, with the most prominent one being that you won't burn yourself every time you sit in the car seat and touch the steering wheel. 
In this article, find out about the top 3 sun shades for your Ford F-150, and prepare yourself for the hot summer with the best accessories. 
Advertising links are marked with *. We receive a small commission on sales, nothing changes for you.
What Are The Best Sun Shades For Ford F-150?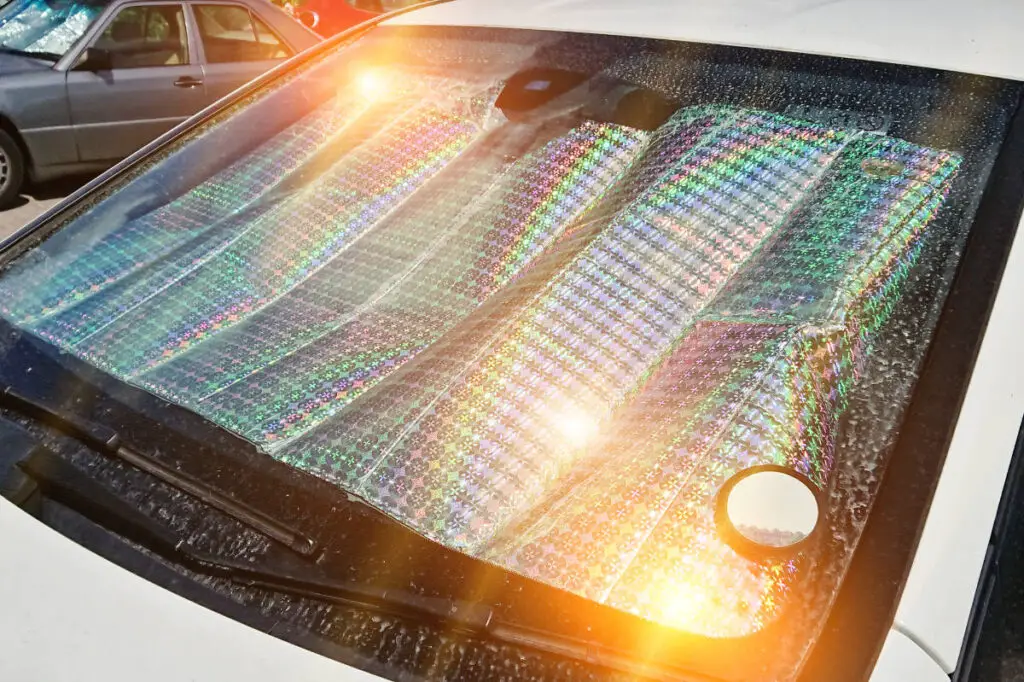 Let's find the best ones for different categories. 
Lowest Price For Excellent Quality: EcoNour
The EcoNour Automobile Windshield Sunshade is an inexpensive choice with straightforward, two-piece construction. With the carrying case that is supplied, it packs up quickly and cleanly. It fits neatly beneath the seat or in a door pocket when folded.
The manufacturer claims that this Ford sunshade's ground-breaking design may lower the inside temperature of your car by up to 40 degrees F.
Engineers furnished it with high-density polyester material and wire supports for the rectangular frame to improve its stability. In addition to the extra-small and double extra-large sizes, this product is available in five conventional sizes.
The current price is $15.99. However, check out the product on the button below for the latest prices.
EcoNour Car Windshield Sun Shade with Storage Pouch | Durable 240T Material Car Sun Visor for UV Rays and Sun Heat Protection | Car Interior Accessories for Sun Heat | Classic (59 inches x 29 inches)
Heat & UV Protection: Protect your car from harmful UV rays and excessive heat with our durable car window shades for the front window. It is designed to block the UV rays and maintains your car's temperature at an optimum level.
Superior Quality: This sun visor for car windshield is constructed with the highest quality 240T polyester material, ensuring it's durable, long-lasting, and this reflector is able to withstand the toughest weather conditions.
Easy to Use and Fold: Our car window shade front windshield is extremely versatile in nature. You can pop up the sunshades, install them, fold them back, and store the sunshades inside the storage pouch with ease!
Snug Fit: Our automotive interior sun protection is designed to provide a snug fit for most standard-sized vehicles, measuring 59 inches in length and 29 inches in width. This sun blocker is super durable and convenient to use.
Multiple Sizes: This car windshield sunshade is designed to accommodate a wide range of car sizes, from small sedans to large SUVs. Perfect accessories for keeping your car cool and protected, no matter what vehicle you drive.
Last update on 2023-03-14 / Affiliate links / Images from Amazon Product Advertising API
Best Protection: MCBUTY
MCBUTY's sunshade comes out on the more expensive end of the price range for a couple of reasons.
With its reflective aluminum foil covering atop five layers of honeycomb bubble insulation, the manufacturer assures this Ford sunshade will block 100% of the sun's harmful rays.
Even a money-back guarantee is included.
This thick, 0.12-inch mix of materials considerably enhances the cooling benefits of the product.
The inside temperature of certain customers' vehicles varies by up to 25 degrees Fahrenheit.
Due to its incredibly powerful suction cups, it adheres to the windshield tightly. Unfortunately, only one size (57 by 27.5 inches) is offered, therefore, it might only suit some vehicles.
Also, it folds for simple storage, much like most other Ford sunshades.
The current price is $23.99, however, check out the button below for the latest prices.
Sale
MCBUTY Car Windshield Sunshade Thicken 5-Layer UV Reflector Auto Front Window Sun Shade Visor Shield Cover,Keep Vehicle Cool(Gary,57" × 27.5")
√ PREMIUM MATERIAL - Windshield Sun shade - Reflective aluminum foil combine with thicken 5-layer bubble material make the cooling effect is more significant,100% reflected sunlight.
√ KEEP VEHICLE COOL - Car Window Shade - 5-layer super reflective insulation:1.Aluminum foil reflective insulation 2.Honeycomb bubble insulation 3.Insulating insulation 4.Honeycomb bubble insulation 5.Aluminum foil reflective insulation,keep the temperature at 25-35℃,and the fuel consumption saving air conditioning, helps keep car interior cool during hot & sunny weather.
√ EASY TO USE AND STORE - Car Sun Shields - Folding design, Sunshade is quick and easy to install and uninstall,can be reused.Storing the sun block with nylon button,and 2 pieces of 2.2inch dovetail type environmental protection suction cup,more solid.
√ UNIVERSAL FIT & MULTIFUNCTION - Sunshade for car & Windshield snow cover for ice and snow - Multi-size design for most models(57" x 27.5"),Please check your windshield size if you have a mini size car.
√QUALITY GUARANTEE - Car Sunshade - 100% Money Back Guarantee: If something was wrong with your sun shield car windshield. Can be reissued in case of shipping damage!Just tell us and we will help you,refund or resend!
Last update on 2023-03-14 / Affiliate links / Images from Amazon Product Advertising API
Best For Side Windows: Enovoe
This Ford sunshade will be popular with parents and carpoolers. It was specifically designed to mount on side windows rather than your automobile's windshield.
Both front and back seat occupants are safeguarded. While driving, you can leave it in place and still have excellent peripheral vision.
This Enovoe product has a transparent mesh fabric that reduces glare.
Also, it shields your children from the harmful health effects of the sun's UV rays by blocking up to 90% of them.
The most common cling shade is 21 by 14 inches in size and sticks to windows with static amazingly effectively.
Depending on the demands of your household, get yours in a two- or four-pack.
The current price is $10.99, but the same as before; click the button for the latest prices.
Enovoe car Window Shades for Baby - (2 Pack) - 21"x14" Window Shades for car Baby - car Sun Shade, Glare and UV Rays Protection- Shade for car Window for Kids - Baby Window car Shade for Side Window
ABSOLUTE SUN PROTECTION - Do you want your child exposed to the sun's heat? Mesh fabric design on our car shade side window is Guaranteed to provide protection from sun glare and heat - The car shades for side windows baby blocks over 97% of harmful UV Rays
FITS MOST CAR - baby window shades for car comes in a pack of 2 - 21" x 14". These Car Sun shades are designed to fit larger car side windows of SUVs, minivans and full size cars. Our sun shade is a breeze to install. Simply, place the envoe shade on your side windows and run your hand across it. It's really that simple
UNIQUE DUAL LAYER DESIGN - Car window shade for babies have a dual layer design which gives the best of both sides. Mesh side provides protection while maintaining visibility for driver. This static cling back allows easy car sunshade window application and removal without any adhesives or suction cups. Enjoy your hassle free driving with these side window sun shades car
AN AUTOMOBILE MUST-HAVE: You'll wonder how you ever managed without a set of these in your car it also act as a tint windows for car You won't regret Buying car window shades for side windows
BEST VALUE ON AMAZON -shades for car windows comes with 2 Free Bonuses . A Free Premium Pouch to store car window shade with E-Book filled with tips for keeping your children safe in the heat
Last update on 2023-03-14 / Affiliate links / Images from Amazon Product Advertising API
Frequently Asked Questions
In this section we will answer some of the most asked questions related to the sun shades you use in your Ford F-150. 
Keep reading to find out the answers to most hot questions!
Are Windshield Sun Shades Worth It?
You are asking yourself, "are windshield sunshades effective?" They certainly are.
A $20 sunshade may reduce the inside temperature of a car heated to 120 degrees F on a bright day to 92 degrees, as demonstrated in several experiments.
What Is The Best Color For A Car Sun Shade?
If you want to shield yourself from the UV rays, use dark hues like black or brown. Lighter shades may carry greater danger.
Moreover, remember that lighter hues will reveal dust, bird droppings, and stains more easily since they are more obvious.
Are Reflective Sun Shades Better?
Because of their reflecting qualities, metalized sun shades keep your automobile cooler than conventional sun blinds that aim to absorb heat.
So, yes, that means the reflective/metalized sun shades are better at doing their job than cardboard shades.
Should Car Sun Shade Be Inside Or Outside?
The sun shade's silver side should be facing out for optimal benefits.
The silver side is the reflecting surface that will deflect the sun's rays away from the automobile.
To conclude, make sure the silver side of a windshield sun shade is towards the sun if you're using one so it can reflect as much light as possible.
Advertising links are marked with *. We receive a small commission on sales, nothing changes for you.